Detwinner 2.01.230 – the world's fastest duplicate file finder – released on April 4, 2012.
In this release:
drastically improved performance of similar images search, both in speed and memory consumption;
introduced ability to export the report on duplicate files found to CSV, HTML and XML file formats;
small fixes and improvements in the interface.
The speed of similar image search is now fulminant. We had to remove the calculating of total number of colors used in the images, though; now these values in the duplicate files list, as well as the corresponding smart selection feature, are not available. Anyway, its usefulness has been questioned, so this loss is unlikely to be significant.
We have introduced the feature of creating reports on found duplicate files. Now the export to CSV, HTML and XML file formats are available. Just click Report button in the action bar of the duplicates pane, and select the needed export format: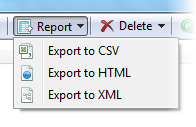 P.S. Our new partner for payment processing is Plimus now, so you can check out the updated purchase page of Detwinner.
P.P.S. Happy Webmaster's Day!