Detwinner 2.00.160 – the best duplicate file finder – released on March 10, 2012.
In this release:
main window is not maximized at startup by default;
fixed progress indication during deletion of duplicate files;
progress indication is integrated with Windows 7 toolbar now;
optimized memory usage;
added option to ignore rotations during similar image search;
small fixes in the interface.
Along with a number of fixes and improvements, we introduce an option to ignore image rotations while searching for similar images in Detwinner 2.00.160. By default, when searching for similar images, Detwinner rotates each image by 90, 180 and 270 degrees when comparing with another one. This ensures that similarities between two images will be found even if one of them has been saved in the orientation different from another one.
However, this feature is not always needed, and sometimes just uses your CPU's time. To avoid this operation if it is not necessary, we added an option Take rotations into account, that can be disabled or enabled on search options pane: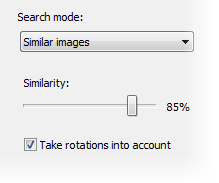 The other small improvement was made to keep pace with the times. The indication of progress of searching, selecting and deleting duplicate files is now also displayed under the icon of Detwinner in the Windows 7 taskbar. This allows watching the progress of current operation even when Detwinner is minimized:

The home page of Detwinner is here, as always.
Good luck and stay in touch!